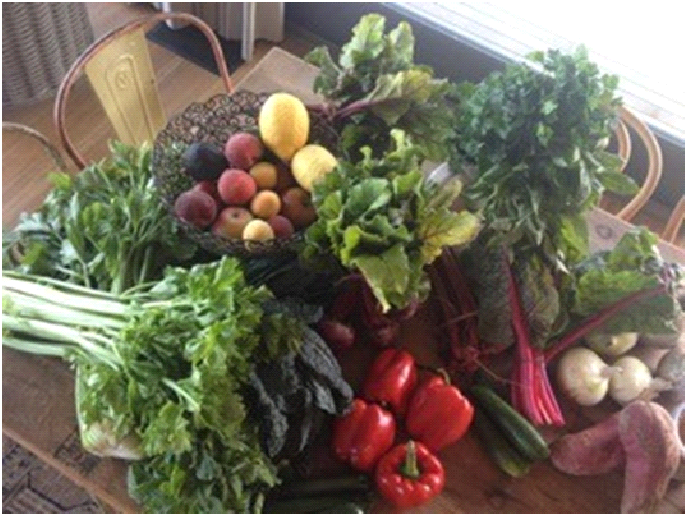 Gourmet as a definition is often misused and abused by companies producing food in factories and with numerous amount of ingredients that does not exist in nature. Permit me to attempt to explain my version for 'Gourmet Food' and what it means to me and how I approach my menu design for all occasions.
Dinner for two, small gatherings with friends and loved ones and of course it spills into my professional life when I design and conceptualize private catering events for Fine Palate Singapore.
To produce 'Gourmet' level food starts with awakening of your passion for creating and cooking the best meal you possibly can, the desire must come from the heart and must not be encumbered with time and to an extent cost restraints, your mind must be filled with excitement of producing a noteworthy evening, of pleasing a loved one or impressing a group of your friends with your creative talent, you must imagine each dish in its entirety up to almost being able to smell and taste it only then you are ready and on your way to being a true Gourmet cook.
Of course there are many more considerations that must be taken into account when attempting to hold the attention of group of people whom you are aiming to please and to be considered as an accomplished cook.
Stay tuned for more!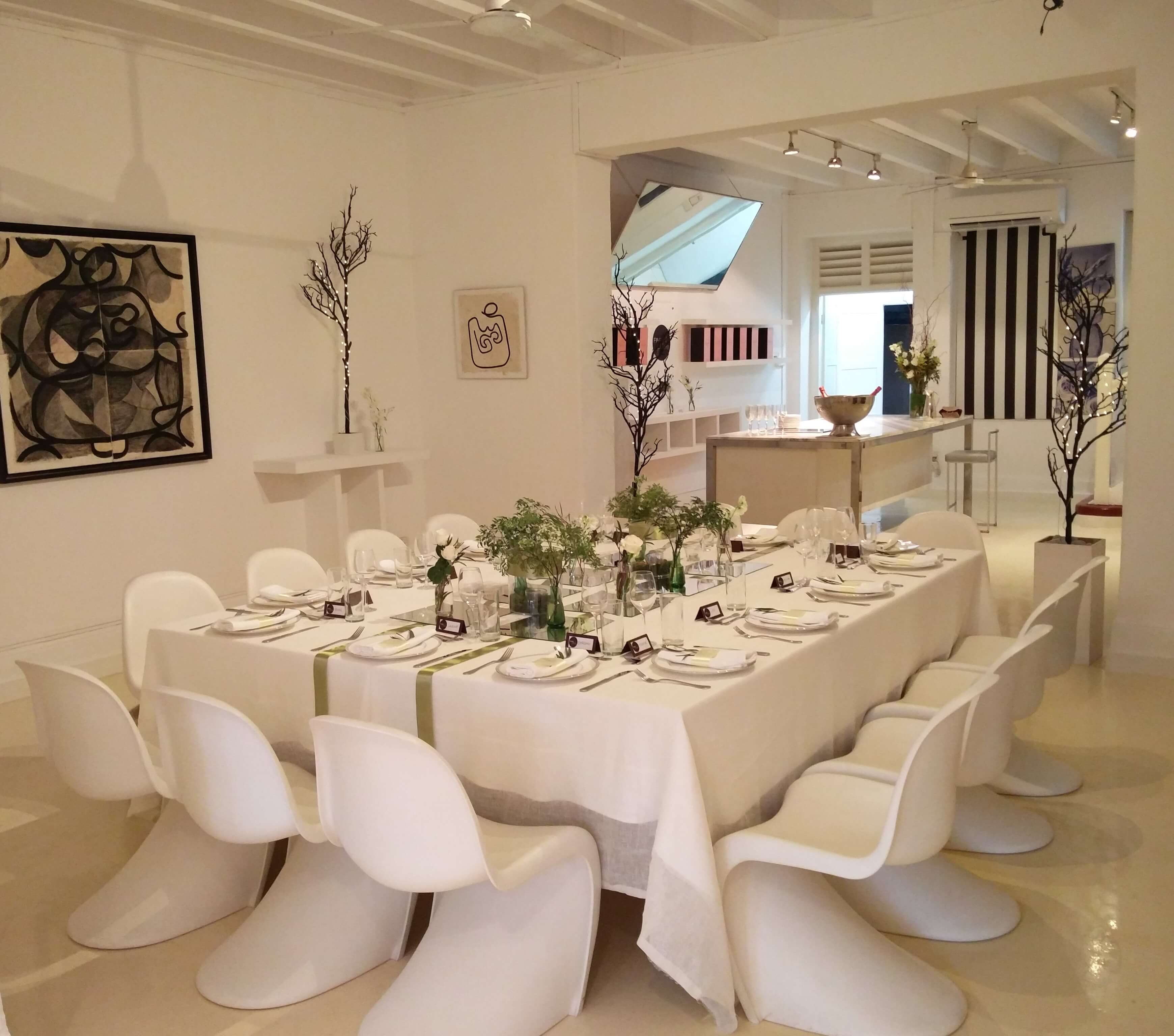 "People who love to eat are always the best people." If you are friends with them, you are truly fortunate. You would always want them around, that even if the idea of private dining at home seems daunting, you would invite them still. Welcoming them to your house is just a great way to celebrate your friendship.
"Let's have dinner" are the three words you'd be grateful to hear from a dear friend. But, as opposed to eating out, eating at home can deepen your friendship more – your friends feel honoured to be invited and you can spend more time catching up with them. Although there's absolutely nothing wrong with eating out, time spent discussing what to order from the restaurant's menu should instead be spent on meaningful conversations.
Considering an intimate get-together at home might be overwhelming, but with proper preparations and with the right help, it can also be lots of fun and surprisingly rewarding (just think you won't have to do the dishes after!) Dining at restaurants here in Singapore may actually end up even more browbeating. Aside from the complexities of choosing from the menu, food may sometimes be unpredictable, the service questionable, and the drinks bill most unwelcome.
Your private dining can be high-powered or low-key as you like – froma formal dinner table to a casual patio setting. Regardless of your choices,what's important is that you are relaxed while entertaining your friends whom you want to go home with a smile on their face.
Note: To see catering options you may want to consider for your upcoming gathering with your friends, click here.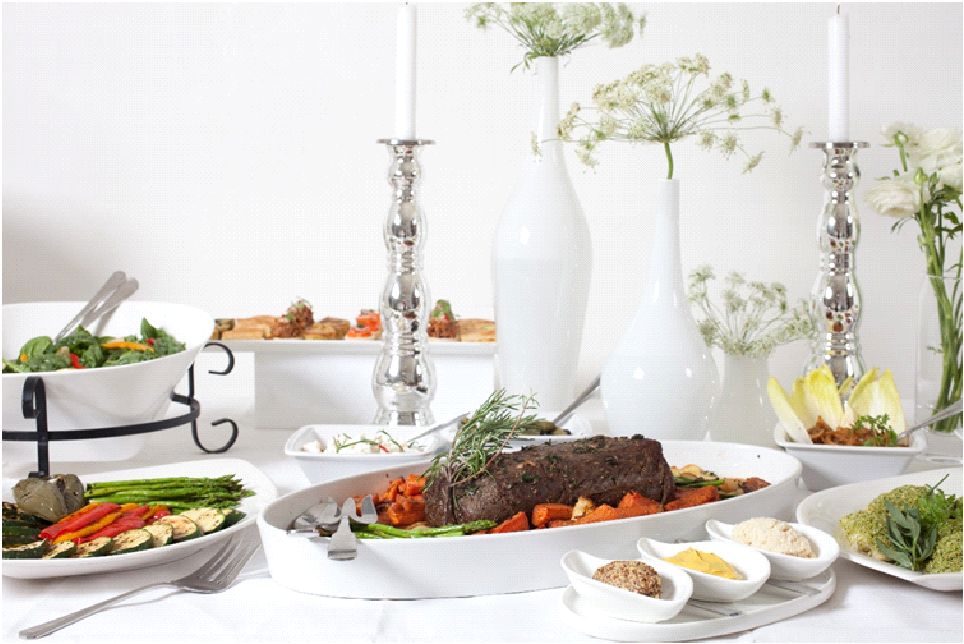 Planning the menu is the most crucial part of arranging a get-together at home. Your choices would not only reflect the mood you want to set, it will also reveal your personality. If you start planning well in advance, hosting at home can be fun and fuss-free!
Having hosted a lot of gatherings in my own home, allow me to share some of my menu planning blueprints particularly for get-togethers over lunch or dinner:
– Choose the main course first, followed by dessert then the entrée. By selecting the entrée last, you can easily balance back into the meal any of the ingredients you feel missing/excessive in the other 2 courses, i.e. too much cream or too dry? Think of colors, textures, and complimentary dishes. In addition, be mindful not to use the same main ingredients across all the 3 courses to ensure you get a good and satisfying mix of dishes.
– Be aware of dietary restrictions. Some of your guests may be vegetarians, allergic to shellfish or other food, or they may not ear red meat or pork.
– Make a list of everything you require. Plan out what can be prepared a day in advance and how much has to be done last minute.
– Allow yourself plenty of time. Read the recipes first and try to visualize each step so that you will know exactly what techniques, ingredients, time, and equipment are required.
– Do not plan more than one long or complicated recipe for a meal or you will wear yourself out and derive no pleasure from your efforts.
Organizing gatherings at home can be made even easier if you can ask someone for help. Fine Palate offers one of the best catering services in Singapore. Not only will your planning be easier, it will also be more enjoyable. Together, we will visualize with you every aspect of your get-together down to the very last detail. Hosting at home can be a breeze with adequate preparations and with the right planning partner. Don't sweat the small stuff, just look forward to your event with great enthusiasm and anticipate having a great time with your guests!
Note: To see menu options for your upcoming get-together, click HERE.
When I design and conceptualize private catering events for Fine Palate, I add my personal touch. I really enjoy handling the events myself and I particularly like discussing the set-up and decorations with my clients. As one of the pioneers and top caterers in Singapore, allow me to share some tips on how you can modify your space to create the atmosphere and set the mood for your private gathering at home.
1 Pick the best location in your house that will suit the occasion. Aside from your dining area or living room, you may also want to consider your backyard or garden for a more relaxing view and scenery.
2 Decide on a motif or color scheme and be sure to match your tableware, lights, and décor with the color scheme. Colors evoke feelings and trigger change in emotions so use them wisely to wow your guests. For formal events, darker colors, like blue and purple, are more appropriate. For festive ones, choose vibrant colors like pink, yellow, or orange.
3 Create mood and set the tone for your event with lighting. For soft and dreamy lighting, you can use candles or elegant lampshades and install string lights or low-wattage bulbs. For a
lively environment, why not get strobe lights or even lasers that you can sync with your music?
4 For the table décor, you can add a centrepiece. Aside from candles or lanterns, you can also have a vase of flowers. And none is fine, too, especially if you're having a feast and your main course setting is enough to be a centrepiece.
If you'll soon be hosting a gathering at home, hopefully you now have some new inspiration and ideas. And if you are inspired, but still looking for the perfect way to hold your event, give us a call at 6463-1671 or you may visit our gallery to view some of the events we've had the pleasure of arranging.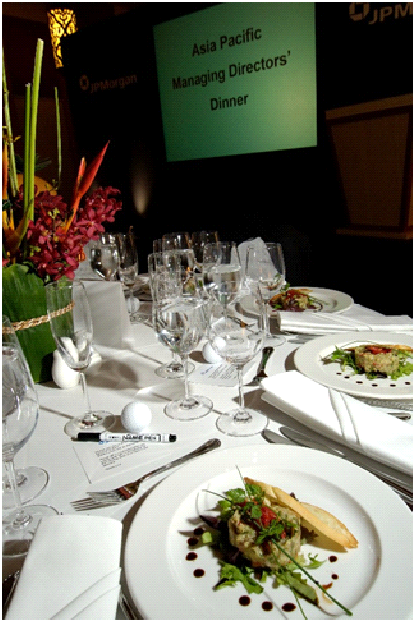 In the previous articles, I've talked about mainly private dining. I do hope you've been enjoying having your friends over for get-togethers. Organizing such small gatherings is really fun and gratifying, don't you agree? My love of entertaining my own friends at home is actually what inspired me to start a catering business. If it's something that excites you, you might also be curious to know how it's being done on a larger scale. In this article, let me discuss another kind of event planning and take you on to the next level, the more thrilling and complicated one – corporate events.
You're always beleaguered to achieve the flawless corporate event, regardless of the event size. Whether you're organizing a workshop, meeting, or your company's annual dinner and dance, your objectives are the same: 1) be able to efficiently contribute to the achievement of the event's goals and 2) wow your guests and make the event a memorable one.
Here are some of my guide questions that can help you pull off a successful corporate event, which I've learned from over 2 decades of organizing events:
1 – What is your theme?
Your theme sets the tone of your event and dictates your choices on the menu, music, decorations, etc. Do consider the profile of your guests when choosing a theme.
2 – How much is your budget?
If you had a big budget at your disposal, you won't have to choose what element to prioritize. But just like any other event, because of a limited budget, you have to allot how much of your total budget will be spent on venue rental, food, entertainment, etc.
3 – What should you consider in choosing the vendors you will work with?
Do a site visit of the locations you are considering. Evaluate the rental costs, other fees, and inclusions.
Check if the venue requires that the food comes from them or if you can get an external caterer.
Determine if the venue can do the decoration setup or if you have to provide your own.
If you can bring an external caterer and suppliers for your other needs (bartending, decoration, lights and sound, etc.), start reaching out to potential vendors to assess their services and costs.
Remember to inform the vendors whom you won't select about your decision. They'd really appreciate it and they will think of your courtesy the next time you approach them for another event.
4 – How do you want the food to be served?
Determine the set-up, i.e. a) buffet or a sit-down, plated meal, b) cocktails before the actual event, c) live stations, d) dessert bar, e) alcohol bar, etc.
5 – What else should be in your to-do list?
Send invitations to your guests/participants
Do a run-through and a re-run of your program/agenda so you can check what else needs to be accomplished
Finalize contracts with all your vendors
Planning for corporate events is never an easy task. But as long as you've identified and envisioned clearly what you want to happen and you've selected the best vendors you feel most comfortable working with, you're on your way to making your event a success. Just make sure that you've made a meticulous evaluation of your vendors. What appears to be more affordable and practical might just result to major problems requiring costly solutions.You and your event participants deserve only the best, so don't ever sacrifice quality for price.
Note: It's best if you can work with a caterer who can do everything for you, from food to decorations, entertainment, etc. To see if this can be done for your upcoming corporate catering requirements, visit Fine Palate's website .